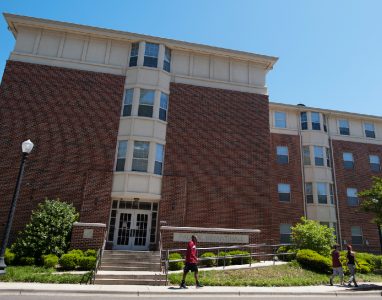 Bryant Hall features suite-style living with 2-4 single bedrooms in each suite. Bryant Hall has wireless internet access throughout the building. There are laundry rooms on the 2nd and 4th floor. TV lounges and vending machines are located on each of the floors. Keys are used to access individual bedrooms, while students access their suites with their Action cards.

Residence Hall Details
University Breaks
All residence halls are open for fall and Thanksgiving breaks.
Dining and Laundry Options
The closest dining hall is Bryant Dining Hall. Laundry rooms are available on the 2nd and 4th floors.
Floor Plans
Staff & Address
Area Coordinator: Kelsey Hansen
Phone: (205) 348-6719
Community Director: Hannah Niblett
Phone: (205) 348-7680
Bryant Hall Street Address*
525 Devotie Drive
Tuscaloosa, AL 35401
*Note: mail is not delivered to this address. Mail and packages will be sent to the Ferguson Mail Center.

View Photos
Room Details
Bedroom
Furniture provided for each resident:

Full size extra-long bed and mattress (54" x 80"), adjustable height up to 33" max from floor
Desk (48" x 24"), with locking unit
Desk chair
6-drawer dresser (30" x 18" x 50")

There is a curtain provided to enclose the closet in each bedroom
Wall-to-wall carpet
Approx. window dimensions: 58 1/2″ x 43″, mini blinds provided
Living Room
Furniture provided shared by each resident:

1 sofa
2 lounge chairs
1 coffee table
2 entertainment units
1 café dining table with a dining chair for each resident

There is a wall-mounted television in each living room. This is the only TV allowed to be wall-mounted.
Wall-to-wall carpet
Includes Ethernet connection and cable TV connection
Approx. window dimensions: 2 side windows 70″ x 22 3/4″, 1 center window 70″ x 34 3/4″, mini blinds provided
Kitchenette
Full refrigerator, microwave and cabinets for storage*
Bathroom (shared by 2 residents)
Shower stall, no curtains needed
Toilet, sink and vanity
Overhead storage above the toilet
Storage under sink
Linen closet with shelving
Additional Details
Please note that residents must bring their own trash receptacles, cookware, eating utensils and cleaning supplies for use in their apartment or suite.
Map to Residence Hall
Please note: driving directions may be altered during Move-In, so please follow any driving instructions sent to your Crimson email.